VitoLax - Anti – Constipation herbal powder…
VitoLax Benefits:
---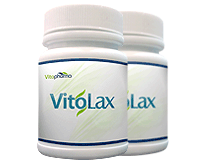 Treats and maintains regularity in constipation naturally

Prevents piles and fissures

Regularizes bowel movements and strengthens digestive system

Fast acting and very effective

Natural formula with no side effects
---
VitoLax is your herbal answer that contains unique laxative herbs, that relieves you of constipation fast, regularizes and normalizes bowel movements and promotes a healthy digestion.
Is Constipation getting you all uncomfortable and bloated?
"Constipation" is usually said to occur when bowel movements are restricted to 3 or lesser times a week, or when the stool is hard, dry, painful and difficult to pass. The food we consume, the physical activity we engage in all have a rather direct effect on constipation. At times, the constipation gets a little more serious leading to piles and fissures.
What causes Constipation?
Understanding what causes Constipation can actually go a long way in combating it.
The prevalence of stool in the large intestines for long
Stress and ignoring bowel urges over time
Consuming a low fiber diet and less liquid
Consuming calcium and iron supplements and certain painkillers
Pregnancy or having given birth
Condition of "irritable bowel syndrome"
Diabetes or Hyperglycemia
And Hypothyroidism
What makes VitoLax an increasingly preferred option when it comes to treating constipation?
As compared to synthetic drugs, VitoLax is a balanced combination of the most potent herbs that have powerful laxative treating qualities. It non –lethal, does not contain traces of chemicals, rather its prime function is acting as naturally hydrating and bulking agent, to ensure regular and soft bowel movements.
VitoLax also rules out side effects like nausea, diarrhea, cramps as seen in other medications. Moreover, being in a powder form, it is easily digested and absorbed.
How does VitoLax work?
VitoLax acts as a bulk forming laxative adding bulk and water to your stools. It contracts and triggers the bowels to pass stool out easily. It has incredible laxative qualities that enable proper and smooth bowel movements.


Ingredients
Each dosage contains
Plantago ovata
3.5mg
Cassia angustifolia
100mg
Triphala extract
250mg
Dosage
1- 2 tsp at bedtime with lukewarm water
Side Effects
VitoLax is made of pure and natural herbs; it assures complete safety and is absolutely free of side effects. 
Guarantee
VitoHealthStore's reputation for customer satisfaction is unprecedented. VitoHealthStore products are prepared from the most effective herbs and formulated by the most trusted doctors. As soon as you place your order, your product will be placed in compact packages. Your privacy is strictly respected.

Our products are formulated to deliver and VitoHealthStore products come with a 180-Day Money Back Guarantee. This guarantee is a reflection of our unwavering commitment to premium quality and product integrity. If for any reason you are not satisfied with our product, you can claim your money back by getting in touch with our customer care.