NoFlam - New Anti – Arthritic Formula with all natural essential herbs…

NoFlam Benefits:
Prevents and treats:
---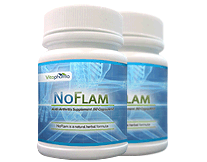 Combats stiffness and strengthens Joints

Nourishes the tissue thus reducing swelling and pain

Assures long term and permanent pain relief

Rejuvenates the joints by eliminating stiffness and inflammation

Natural and devoid of side effects
---
NoFlam pills are a safe anti-joint product that is herbal in essence and natural in effect. The herbal composition of these capsules not only helps you fight off arthritic conditions but also promotes the health of bones effectively.  
The arthritic truth – Do you find yourself trapped in this reality?
Arthritis is an inflammatory bug that results in swelling, stiffness, pain and difficult joint movements. Arthritic fallout is generally related to age, as with growing age, the joints begin to degenerate. Basic movements become difficult and uncomfortable. The result is tremendous pain which becomes difficult to bear overtime.
What results in this condition? What factors constitute the Arthritic causes?
Age factor is a major factor to Arthritis, as with age the bones begin to decay becoming fragile and feeble.
Malnutrition is another cause along with having calcium and phosphorous deficiency. Precisely, when we undertake greater hard work than our food consumed it invites Arthritis.
A breakdown of cartilage
Viral or bacterial infection of bones
Arthritis also results from autoimmune disease of the body
And any kind of highly stressful activities that involves joints and bones
NoFlam – Say No to Joint pains… what makes NoFlam a highly preferred herbal option?
NoFlam is the outcome of years of research and studies. This herbal supplement made from the most potent herbs is designed meticulously to give you relief from joint and muscle pain. It is the safest and an economical medication for your joint ailments. NoFlam is so effective because it first targets the degenerative process associated with ageing. What makes it stand more superiorly apart is that it targets and cures all forms of arthritis. Within the first couple of usage itself, your joints feel flexible and pain is drastically reduced. Within a span of time, all possible movements will be easily done with NoFlam. Most importantly, unlike other medications, NoFlam has no side effects.
How does NoFlam work?
NoFlam first targets lipopolysaccharide (LPS) induced production of proinflammatory cytokines, which are the prime cause of rheumatoid arthritis. Moreover, NoFlam has anti-inflammatory property which decreases polymorphonuclear leukocytes infiltration and migration responsible for acute inflammation. Besides all of this, NoFlam promotes the health of joints by maintaining the fluidity, viscosity, and enzymatic activity and biochemical characteristics of the synovial fluids in the joints.


Ingredients
| | |
| --- | --- |
| Ingredients | Extracts |
| Commiphora mukul | 100mg |
| Withania somnifera | 75mg |
| Boswellia serrata | 130mg |
| Nyctanthes arbortristris | 75mg |
| Ricinus communis | 60mg |
| Zingiber officinale | 15mg |
| Vitex negundo | 75mg |
Dosage
2 tablets twice daily
Side Effects
NoFlam is made of pure and natural herbs; it assures complete safety and is absolutely free of side effects. 
Guarantee
VitoHealthStore's reputation for customer satisfaction is unprecedented. VitoHealthStore products are prepared from the most effective herbs and formulated by the most trusted doctors. As soon as you place your order, your product will be placed in compact packages. Your privacy is strictly respected.

Our products are formulated to deliver and VitoHealthStore products come with a 180-Day Money Back Guarantee. This guarantee is a reflection of our unwavering commitment to premium quality and product integrity. If for any reason you are not satisfied with our product, you can claim your money back by getting in touch with our customer care.